English teachers practical English program this July 2017
all news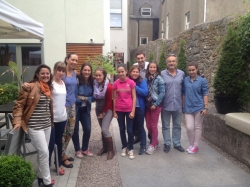 Are you an English Teacher facing exams or wishing to improve your English?
Not part of a group booking, but want to take part in our unique Work Placement Program to improve your English skills?

Following a successful individual-booking program in 2015, we will be open for individual bookings again for summer 2017! Join a group that will include individuals from all around the world. As an individual teacher you will be joining a group of others in Kilkenny, Ireland for 2 weeks.
If you want to develop your spoken English, improve your confidence speaking English, and enhance your future employment opportunities why not take this opportunity. Teachers arrive on flights on Saturday July 15th and are met at the airport by us....this program is for 2 weeks upwards....you decide the duration!


Your Voluntary Work Placement will be from Monday to Friday each week with fully organised cultural tours every second weekend along with mid week social evenings! There is a very large choice of work environments to choose from. LXI don't just sell English Learning Programs, we deliver a truly Irish experience, which helps you learn English and have fun doing so!

Immerse your self in an Irish workplace for two weeks and stay with a host family. Develop your "ear" for English with our pre & post program e-Learning package. For further details contact our managing Director at:- training@confurey.ie - and book your 2 or 3 week place in Ireland, this summer.


- Free 45 hrs E-Learning Package prior to arriving in Ireland
- Voluntary Work Placement for 2 or 3 weeks.
- Irish Host Family for duration of stay in Ireland
- Access to local social events
- A Cultural Tour
- Programme travel and transfers are included.
- Contact us now!!


Link to package: http://languageexchange.ie/services/voluntary-work-placements


Work Placements previously sourced for participants:
Hospitality - Reception & front office, Bar work, Restaurant, Accommodation, Sales & Marketing or Gym
Retail - Clothing Stores, Furniture Stores, Supermarkets, On-line Sales, Hardware Stores or Artisian Markets.
Sport & Administration - Gyms or Fitness Centres.
Farming - Equestrian Centres, Diary Farms, Mixed Farms, or Pet shops.
Nursing - Nursing homes, Physiotherapy Clinics or Creches.
Office / Administration - Small Businesses, Solicitors Offices, Accountants Offices, Retail Offices, Tourism Office, Kitchen & Tile Companies, Politicians Office, or Art Galleries.
Catering - Hotel & Restaurant chef positions, Waiting in cafes and restuarants, Food Producers or Bar & Food premises.
Trades - Painting & Decorating work, Mechanical Garage work, Hairdressing, Beautician work, Electrical work, Plumbing work, Carpentry work, Landscaping work, Web design, Social Media Marketing, Video production & Advertising or Database entry.

You tell us what you are interested in doing and the skills set you have to match that role; and we will try our best to source a voluntary work placement for you in Ireland.


Our FREE e-Learning package with this program: http://languageexchange.ie/services/e-learning